From Projekt Records' Sam Rosenthal…
My 20-something friend, and I were messaging about music. She wrote:
I feel like having access to so much of something devalues it. I had few toys growing up. The toys I had were very valuable to me. I knew each of them by name and played with them often. When I went to the houses of other kids my age, I found them filled to the brim with plastic toys and junk. Entire floors covered like a scene from Hoarders, the reality TV show about people living with too much stuff.

Many people are digital hoarders. They acquire something simply because it is there (in this case, music) yet rarely look at it again, or savor it. When I dug out my hard drives from 12 years ago, I found 250 gigs of music. Almost all of it was crap. I realized that I had only acquired it because I could. Once I had it, there was too much to listen to. I didn't savor each song because everything was the same, a name in a digital list. Compare that to my dad's music. Thought I would make fun of him for purchasing so much, especially what I considered overpriced CDs, that's where I got the most joy out of listening. Each CD or album or cassette in the living room was a new experience waiting to be explored.

I feel like the MP3 culture was anemic. Growing up, most of the people I knew who downloaded MP3s had absolutely awful taste in music. They didn't respect it. At LAN parties we'd trade entire hard drives full of music. Did it make anything special? Did we cherish any of that music? Absolutely not. It was just hoarding behavior. The understanding of a limit had been lost. The exceptions were people with parents who passed down their excitement for music.

I realize now that some people learned about music from siblings, or friends, physically bringing records over, or going to record stores and listening there, or at local live shows. How did you get introduced to the music of Brian Eno or David Bowie?

I've been thinking about this. How did I discover music when I was young?
I was introduced to David Bowie on the radio, along with Kraftwerk, The Strawbs, Frank Zappa, the B52s. It was strange music, compared to the popular mainstream rock of the time: acts such as Led Zeppelin, The Rolling Stones, The Beatles, Meatloaf, Molly Hatchet, Lynyrd Skynyrd – remember, I lived in South Florida! WSHE (103.5) was our local rock radio station mixing in unusual tracks along with the mainstream hits.
The first song I remember hearing a million times on the radio was Queen's "Bohemian Rhapsody" (which went to #9 in the USA in 1976). It is a weird rock song! Can you imagine something that bizarre getting radio play today? I remember being at the beach with a friend (and his mom) and the song blasting out of car windows in the parking lot.
Wow! WSHE played odd music, which led to finding more odd music.
I cannot honestly say I remember the first time I heard Bowie on the radio; but it must have been "Space Odyssey" or "Starman." It was the end of the 70s, but his tracks of 5 years earlier were still new to us. Bowie's music came before his image. I'm sure I was interested in the space theme (teenage boy in the 1970s, of course I was into SciFi), and also the alienation. You know: feeling like an outsider in your own world.
But where was the connection from Bowie to Brian Eno? You might think it was via the Low album, but I don't remember getting into that side of Bowie until a while later. It was the very early Ziggy Stardust-period that was familiar to me.
There were two magazines – Cream and Circus – which covered rock music. Lots of Bowie, Alice Cooper, Stones, etc. Rolling Stone Magazine was a bit too square for me (Hall & Oats, Fleetwood Mac, Peter Frampton) and SPIN didn't exist yet (it started in 1985).

Ah ha! Here's the holy grail. I remember buying the October 1978 issue of Trouser Press with Peter Gabriel, Robert Fripp and Brian Eno. This was the doorway to a variety of amazing English music I didn't hear on WSHE. Trouser Press covered mostly prog and English artrock; then in the early 80s it morphed into New Wave & New Romantic. There were also UK magazines (cannot remember the name, but probably Smash Hits, Slash, Underground or something. I still have some of them in a box in my storage space.)
The three magazine covers included in this blog are iconic in my mind. They bring me right back to that era, pouring over the words before I heard the music, and then eventually entering the new sounds and new worlds created for me within this music.
By this time I had bought the Eno Working Backwards 11-LP box set, yet I cannot honestly say that I listened to the first two albums. I was a fan of Before and After Science, Ambient 1, and Discrete Music. I was more about his ambient side and wasn't interested in his glam / pre-punk sound. Nowadays, I love Here Comes the Warm Jets; it's a really catchy and quirky album!
Moving along with the "weird electronic" music, I introduced to Gary Numan when a redneck friend in high school gave me the "Cars" single. It was alien, distant, bizarre. I liked it and dug into Numan, purchasing The Pleasure Principle, but more importantly, Replicas. From Numan, I leaned about an obscure band that influenced him, Ultravox! (Check out "I want to be a machine:" Ultravox! produced by Brian Eno.) I was late to the game, John Foxx had already left the band. The week it was released, I bought Midge-Ure-era Ultravox's Vienna album. I also hit upon other electro pop / synth bands, such as Depeche Mode (bought the first album when it came out!) and Orchestral Manoeuvres in the Dark. A friend in high school turned me on to "Tainted Love" by Soft Cell, and I had a new favorite band! And let's not overlook DEVO! Are we not men? was an amazing find (again, produced by Eno!).
For me, then, it seems RADIO served as my introduction to music in middle school. In high school it was MAGAZINES, FRIENDS and exploring at RECORD STORES.
There was a amazing shop — Open Books & Records (1979-1994) — that stocked all the imports and the local bands and underground USA music. I would read about a band in a magazine, then go to Open to check if they had a copy. I'd listen to a track or two to see if I liked the music. Sometimes I picked things up, based purely on the cover (such as The Last Man in Europe Corporation.) Leslie at Open would say, "David Sylvian's solo album is coming out in two weeks, would you like me to order one for you?" or "You like Ultravox, have you checked out Visage? There's a different singer but Midge Ure and Billy Currie write the music…"
My friend talked about trading hard drives of music, but it having no real value, being merely unseen data without context, unsavored. Our situation was just the opposite back in the early 80s; we had to intentionally work to discover music. Each new musical experience was gained by overcoming obstacles, finding something unique. The hunt gave the music a lot of value. While most of my classmates were listening to The Doobie Brothers' "Minute by Minute," or "Sgt Peppers" for the seven thousandth time, I was adventuring into the musical unknown. These albums I found meant so much to me. The obscure music we followed was wrapped deeply into how we identified ourselves. We were underground, individual, non-mainstream. Music was part of that identity,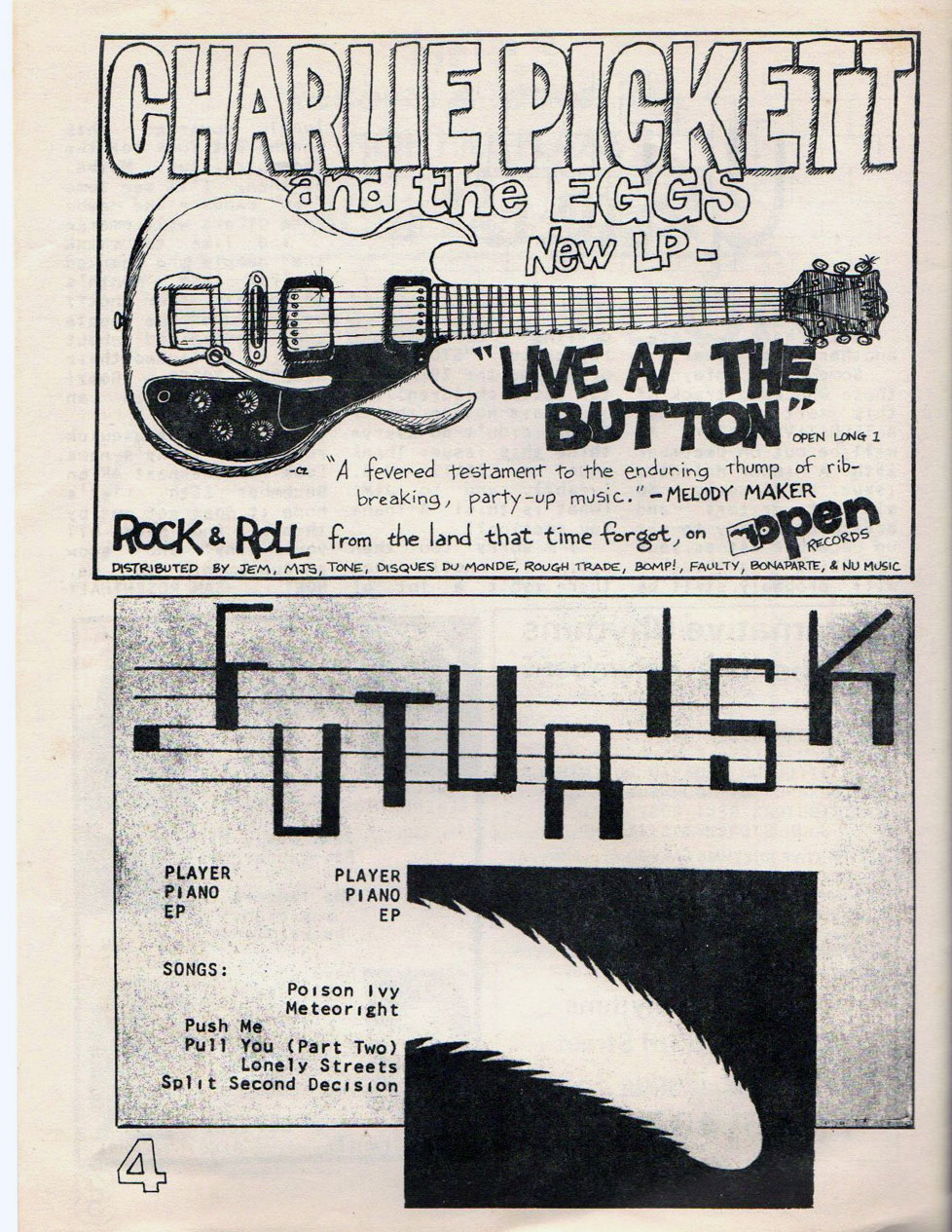 I began my fanzine, Alternative Rhythms, to cover a mix of the European bands I was interested in, plus local South Florida bands I'd hear about from singles at Open Records. South Florida's music scene was diverse; we had electro-pop from Futurisk ("Split Second Decision" 1982, on YouTube) and Stones/Velvet Rock-n-Roll from Charlie Pickett ("If This is Love, Can I Get My Money Back" 1983, on YouTube). Writing about music served as a pretext to get into bars when I was underage, I went out to cover these bands for the 'zine.
Music discovery meant everything to me. That's still true today. My job at Projekt is finding new music, and spreading the word. It's a different era, yet it's similar to 35 years ago; the difference is now I have taken on the role of being the person who exposes new music to people. Music is part of who I am.
Link-a-doodle-doo
DOVE: the band of love. Devo's Christian Rock alter-ego from 1980. Read a short article & watch 3 videos at Dangerous Minds
Burger King Japan goes goth with a black bun and burger.
I just voted for STEVE ROACH! Show your support by voting for Steve's music in Echoes Radio's 25th anniversary poll.
Because we all want to smell a bit more like Brian Eno! Knock-off perfume using the Before and After Science image.
This New York Times article had an interesting factoid regarding how little experience the current Republicans have. And I mean experience making the government function. Besides the speaker, no member of the House Republican leadership was in Congress for the attacks of Sept. 11, 2001, or the invasion of Iraq. The top six Republican leaders have served a collective 64 years in the House. The top three Democratic leaders have served 80. "This is unique," said Norman J. Ornstein, a congressional scholar at the American Enterprise Institute. "You now have a sizable number in leadership who were not there when the parties routinely worked together or who have a significant understanding of operating in divided governance. The only thing they've seen is tribalism."
September Top-5 in the Projekt webstore
Dirk Serries – The Origin Reversal (with Bonus CD)
CD $15
Mirabilis: Here and the Hereafter (with 2 bonus CDs) (Pre-order, shipping late September)
CD $15
Erik Wøllo: Tundra EP (sold out)
Metcalf, Nerell & Seelig: Intention / Tree of Life / Dream Tracker 3-pack
3-CD $29
Sam Rosenthal: Rye (an erotic novel)
Novel $12