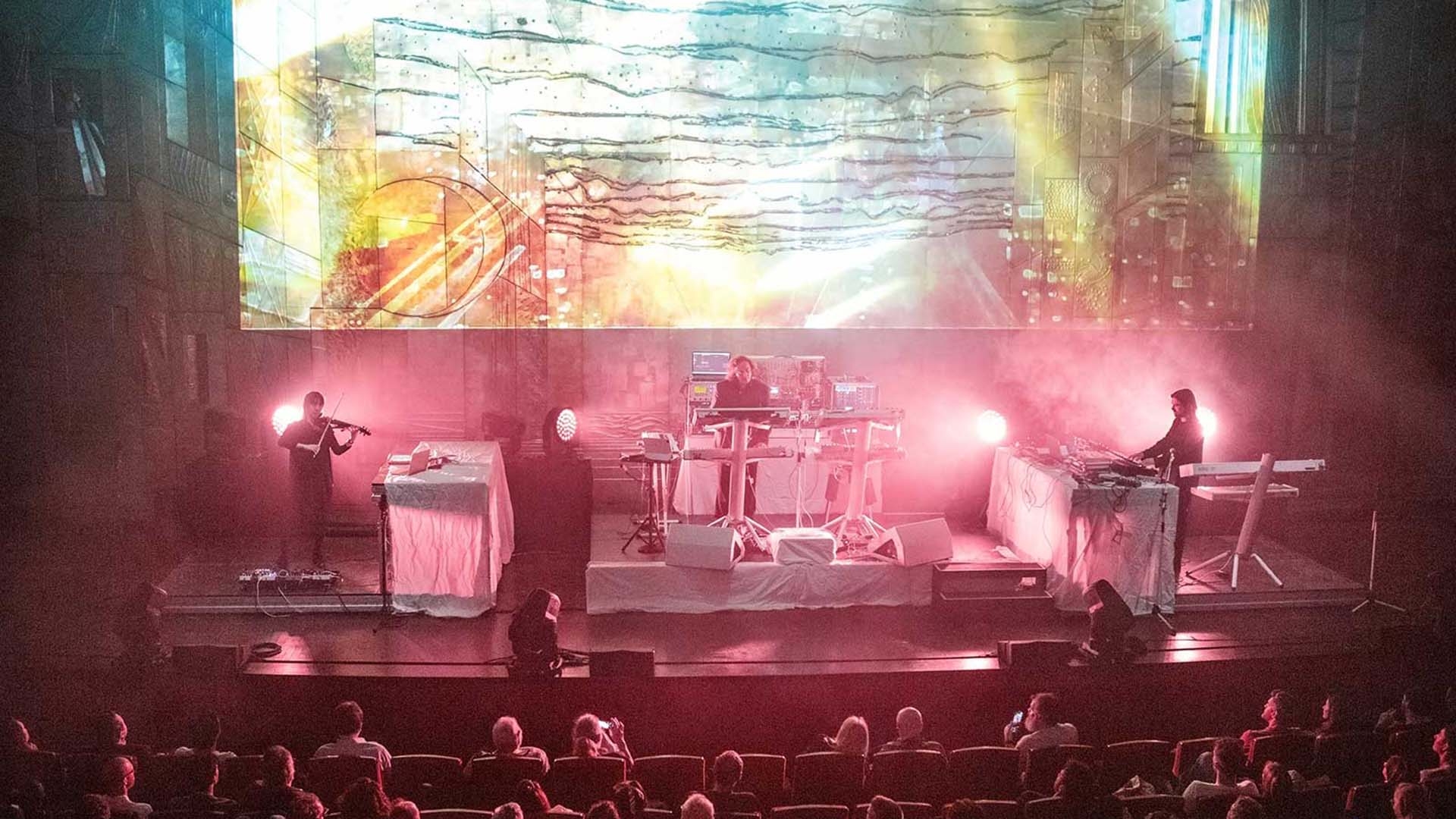 Steve Roach with Tangerine Dream. Steve performed with TD during the "Sessions" encore collaboration portion of their show in Tucson, and then again the next night in San Diego, where the set ran for nearly an hour. Many videos at YouTube including nearly the full show at SD's The Magnolia.
Electronic artists Robert Rich and Steve Roach talk about their experience playing with Tangerine Dream on the western swing of their North American tour. It's a wide-ranging conversation with John Diliberto that streams on the Echoes Podcast (on this webpage). Steve & Robert peform together in Tucson at Steve's Ambient Lounge on Tuesday December 5.

VEiiLA #1 at Echoes Radio in September. Thanks to Echoes for all the VEiiLA airplay this month. This downtempo dreampop duo is making waves! Grab their Name-Your-Price debut at Projekt's Bandcamp (+ $11.99 CD). "I Had a Dream" was Sounds and Shadows' Song of the Day September 29th. "Do You Hear Me" was heard on DJ AsuraSunil's Sunday Seven mixshow, podcast here.

DELREI has a lengthy review in Italian in Rockit.it, one of Italy's most important underground webzines. Alias Magazine (a supplement of Il Manifesto, an Italian political newspaper) writes: "Lying somewhere between western melodies, blues, Tex-Mex in its various forms and a series of decidedly apt psychedelic lashings, this record of eleven tracks by Alessandro Mercanzin, aka DELREI, is a great surprise. In some passages it's like listening to the most inspired moments of the fascinating Spindrift release from a few years ago. The instrumental character of DELREI's work lends charisma to the whole." Desolation and Radiation is Name-Your-Price at Bandcamp.
♬ The Vou says (in "Mastering The Goth Style And Its 24 Trendiest Substyles") that Black Tape For A Blue Girl is Fairy Goth Style,
♬ I Die You Die has a wonderful review of Unto Ashes' Orchids Grew Here "There's certainly something funereal about the icy synths and refrain of 'our lovely garden is dying' on 'Orchids Fade,' but as Laird, Bret Helm, and Ericah Hagle all intone the titular phrase, there's almost a sense of morbid or botanical fascination with the procession of the inevitable. Often combining a wounded frailty with an intimacy which can at times be overwhelming."
♬ Stars End and Expose have great reviews of Forrest Fang's latest. Stars End's Chuck van Zyl: "Throughout the moody flow of flaring, fading textures and interplanetary ambiance, notes and tones progress in slow motion flight along quietly curving contours – such a subliminal, minimal response to the unknown wants of the cosmos." The Oort Cloud Meditations is Name-Your-Price at Bandcamp.
♬ A Spotify Playlist intro to the music of TheAdelaidean.
♬ Tome to the Weather Machine explores "These Days Fail to Bring Me Near" from Aarktica's latest. "I love this era of Aarktica's music. The recently remastered / rediscovered track is brought into the light one more time highlighting the delicate interplay between Jon DeRosa's arcing, shoegaze influenced guitars, acoustic melody and soothing voice." Morning One (2023 remaster) is Name-Your-Price at Bandcamp.
♬ Aarktica's "Slept Through Christmas" added to the popular Ambient Soundscapes playlist at Spotify. "These Days Fail to Bring Me Near" played on The Shoegaze Collective on DKFM.
♬ Nine days to go on the Kickstarter for Paulina Fae's Halloween Dreams Playing Cards, a fully-illustrated deck of playing cards for the Halloween enthusiast.
♬ At Bandcamp, Colors vol. 2 is a new release from Lorenzo Montanà.
Projekt New Release This Week:
Erik Wøllo Cloud of Strings • Name-Your-Price at Bandcamp. At all streaming sites tomorrow, Friday, including Spotify, YouTube and AppleMusic. After albums primarily created with electronic instruments, Cloud of Strings is a sparkling change of pace. Wøllo masterfully manipulates the acoustic guitar with elevated clouds of dulcet layered sound. It is musical spellwork driven by clear and resonant acoustic melody.